2022 Speech, Language and Hearing Sciences Newsletter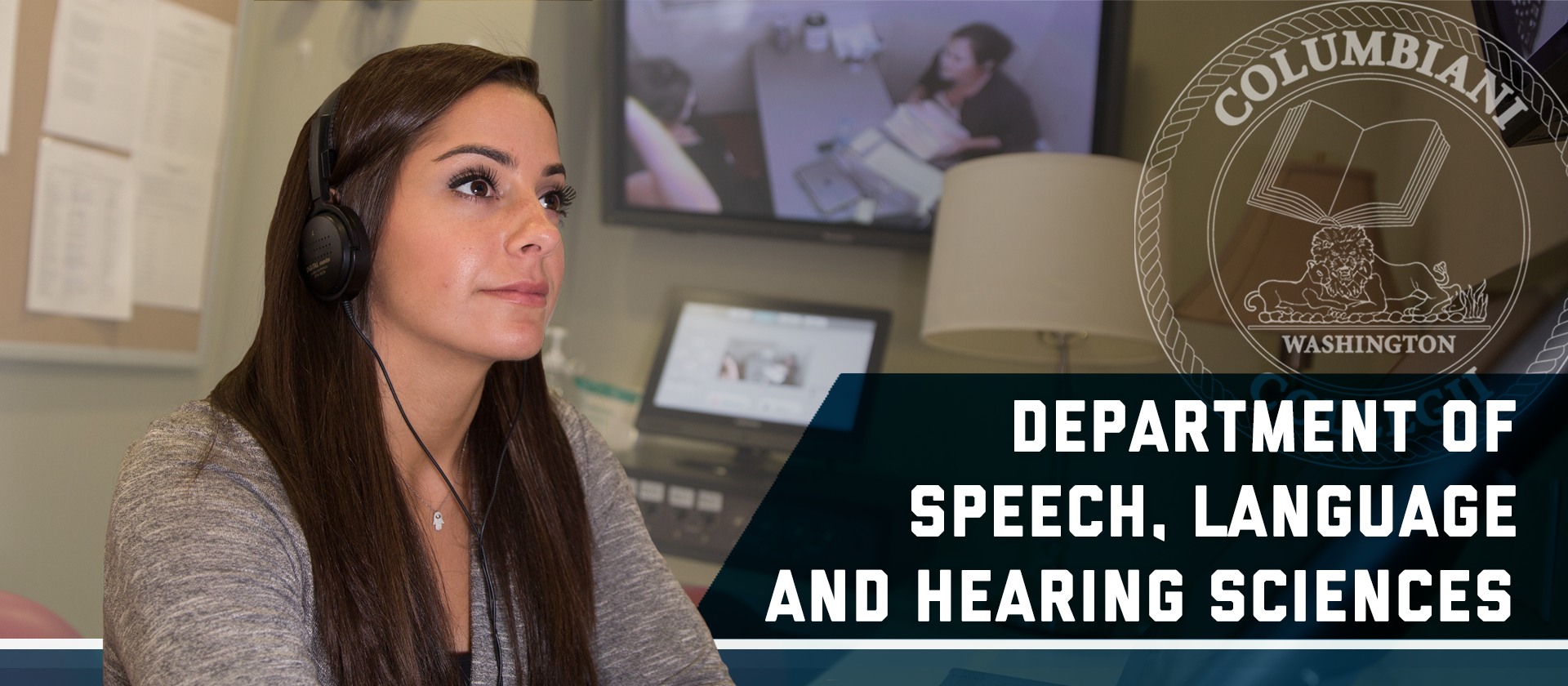 Message from the Chair
Department Spotlights
Department Kudos
Alumni Class Notes
---
Message from the Chair
Hello everyone!
This past year the Speech, Language & Hearing Sciences (SLHS) Department has been busy with a number of initiatives as we continue to provide excellent academic and clinical education and research opportunities to our students. Some of these initiatives are described in detail in this newsletter.
In addition, we have welcomed a new faculty member, Dr. Jessica Jocelyn, who is teaching our pediatric graduate courses as well as a long-awaited elective in Augmentative and Alternative Communication. We will be searching for a new faculty member this year, as Dr. Geralyn Schulz is retiring in December 2022. Dr. Schulz has been at GW since 2000 and has served GW in a variety of roles including professor, researcher, department chair and associate dean of research in the Columbian College of Arts and Sciences. She was recently granted emerita status in recognition of her service. 
SLHS faculty continue to publish in prestigious journals and mentor students both in the classroom and in their research labs. Our clinic continues to provide excellent care in-person and via telepractice, to clients in the DMV and abroad. Our GW National Student Speech, Language, Hearing Association (NSSLHA) chapter received the National Gold Award for the second year in a row for their work in community outreach, legislative advocacy and fundraising this year. Professor Melanie-Joy Dorn is the faculty advisor for this group.
The SLHS Alumni Committee plans to host an alumni gathering at this year's ASHA Conference in New Orleans. More information will be coming out in the following weeks but please save the date for November 17. If you are presenting at this year's conference, please let us know as we are compiling a list of alumni speakers and hope to share that on our social media channels.
On the whole, GW seems to be getting back to a "new normal," with some new twists and some old standbys. The line is still out the door at the GW Deli!
Be well and keep in touch! We'd love to hear from you.
Sincerely,
Shelley Brundage
Chair, Department of Speech, Language & Hearing Sciences
---
Department Spotlights 
Hearing By Seeing: Lipreading Bridges Conversation Gap 
CCAS Speech, Language and Hearing Sciences researchers are helping people with hearing loss through an innovative new approach to lipreading. Combining knowledge from cognitive neuroscience with real-life lessons from their lipreading training sessions, a team of experts—Professor of Speech, Language, and Hearing Science Lynne E. Bernstein; Associate Research Professor Silvio P. Eberhardt; Associate Research Professor Edward T. Auer; and Clinical Coordinator of Audiology Nicole Jordan—are stressing lipreading as a vital component for improving audiovisual speech recognition amid noise.
Through a pair of National Institutes of Health-funded studies, the team is conducting remote lipreading training with more than 200 people with hearing loss, introducing innovative new strategies along with their own state-of-the-art training software. Their work was featured in CCAS Spotlight. 
---
Welcome Our Newest Faculty Member: Dr. Jessica Jocelyn
The Department of Speech, Language, and Hearing Sciences is pleased to welcome our newest faculty member, Dr. Jessica Jocelyn. Dr. Jocelyn received her PhD from Howard University with a specialization in child language. 
She has worked in the field as a clinician, clinical supervisor and educator. As a licensed speech-language pathologist, Dr. Jocelyn has provided evaluation and intervention services to bilingual and monolingual children from birth to adolescence.
Her research focuses on assessing and treating culturally and linguistically diverse populations with a special interest in Haitian Creole speakers. In addition, she has an interest in global research and culturally responsive service. 
Dr. Jocelyn has presented at national and international conferences. She has participated in interprofessional international service-learning and research trips to Haiti, Ecuador and Guadeloupe. Dr. Jocelyn serves on the executive board for the Haitian Caucus of ASHA and as a member of the professional development committee for ASHA's Special Interest Group 17, Global Issues in Communication Sciences and Related Disorders.  
---
DEI Committee Art Event
The SLHS Department Diversity, Equity, and Inclusion (DEI) committee is devoted to developing our department's approach to DEI including, but not limited to, practices related to hiring, student admissions, pedagogy, research, advocacy and service. In addition to continued conversations with faculty and students on DEI topics throughout the course of the year, the committee purchased artwork created by neurodiverse artists—including Corcoran graduate student Wes Holloway, Adrion, Collin Pollard, Dr. Kim Dyer and Yiqiao Wang—and hosted an "art reveal" event. 
This event provided a space for the artists to share their stories and amazing creations with our department's faculty, staff and students. Our students reported this event as one of the year's highlights. This artwork now adorns our halls, making our department a more welcoming and visually engaging space. Our DEI committee is chaired by Associate Professor Malathi Thothathiri and includes Associate Professor Adrienne Hancock, Assistant Professor Mackenzie Fama, Assistant Professor Michael O'Donnell, Clinical Supervisor Kari Lim and second-year MA student Amrita Grewal. 
---
Department Kudos
Clinical Educator Erin Anne Cardman presented "Infusing Simulation into Assessment of Student Clinician Performance" at the CAPCSD 42nd Annual Conference.
Assistant Clinic Director Andy Clare published a chapter in The Handbook of Research on Advising and Developing the Pre-Health Professional Student. 
Assistant Professor Mackenzie Fama received a National institutes of Health (NIH) K-Award to further her work on inner speech in aphasia.
Rachel Hicks, MA-CCC, joined our department as a part-time clinical supervisor.
Our GW NSSLHA group was awarded the NSSLHA Gold Award for the second year in a row. NSSLHA is a student organization overseen by Assistant Professor Melanie-Joy Dorn. 
Lisa Kopf, PhD, joined our department as a full-time clinical educator.
Clinical Supervisor Kari Lim published her book, Speaking With an American Accent: A Guide to General American English. She and SLHS faculty member Laura Barrett presented a webinar on "Supervising Graduate Students in Speech Language Pathology" for Ready Set Connect. 
Many department members have been published in prestigious journals, including Lynne Bernstein in The American Journal of Audiology, Shelley Brundage in American Journal of Speech-Language Pathology, Cynthia Core in Child Development, Adrienne Hancock in Journal of Voice, Greg Wallace in Frontiers in Integrative Neuroscience, Lisa Kopf in Journal of Speech, Language, and Hearing Research and James Mahshie in SIG 9 Perspectives.  
Several department members gave presentations at the 2021 ASHA Convention including Cynthia Core, Michael Bamdad, Shelley Brundage, Andy Clare, Lisa Kopf, Mackenzie Fama, and James Mahshie.
Associate Professor Greg Wallace is co-investigator on an NIH-funded R21 grant for a project titled "Evaluating a Novel Approach-Avoidance Model of Repetitive Behaviors in Autistic Adolescents: A Multi-Method Study."
The department presented undergraduate and graduate students that excel in speech-language pathology with honorary awards: 

The James W. Hillis Undergraduate Student Leadership Award: Sophia Chan and Luca Cava
The Diane Brewer Leadership Award: Maura Philippone
The Craigh Linebaugh Award for Service: Matthew Portnoy
---
Alumni Class Notes
Judith Cicale, MA '77, retired from audiology in 2020. She lives in Gainesville, Fla., and enjoys spending time with her two grown daughters and six grandchildren.
Natalie Merki, MA '18, has worked in home health, early intervention, teletherapy (in the pandemic) and is now clinical director of an outpatient clinic in Falls Church, Va.
Terry Perl, BA '67, MA '72, retired as CEO of Chimes International LTD in 2011. He and his wife, Martha, live in the desert of Tucson, Az., in the winter and the mountains of Flagstaff in the summer.
Renee Reilly, MA '91, is a pediatric speech-language pathologist in private practice in Chicago, Ill., and works as adjunct faculty for Rush University in Chicago and Emerson College in Boston, Mass.
Join us Monday, Oct. 17 – Thursday, Oct. 27
Thinking about pursuing an advanced degree? Hear from current grad students, faculty and admissions staff at GW's Columbian College of Arts & Sciences' Graduate Virtual Open House.